June 19, 2013
Major tire manufacturer
Goodyear Tire and Rubber Co.
, if you take the correct steps and proper care of your vehicle tires you can expect tread life to increase to as much as 50 percent at no extra cost. Not only will it increase your fuel economy and add thousands of additional miles to tread life by just keeping them with the proper PSI, just takes a few minutes each week. Always check inside your drivers door for the proper PSI recommended for your vehicle, not the one you see on the actual tire.
You will found this label inside the drivers door
Buy your self a good tire gauge and check the tire pressure once a week, it only takes a few minutes, overinflated tires are just as danger as under inflated tires.
You may have not filled the tires properly, tires also lose air naturally through a process called permeation and changes in the outside temperature. Tires can lose on an average one or two pounds of air in cool weather and even more during the warmer weather.
Never rely on your local gas station pump for an accurate reading on your PSI, why it advisable for you to invest give or take $10 - $15 dollars on decent tire gauge.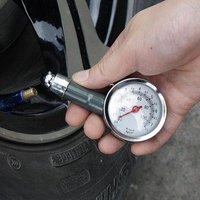 Proper Tire Gauge
As a rule to also implement into your maintenance schedule, is rotate your tires with every second oil change, this provides the tires with a balance for wear and tear with all four tires. Have your front end inspected by a licensed mechanic, for any loose parts, like tie rod ends, pitman arms, lower and upper ball joints and wheel bearings. With any of the work above, follow it up with a front wheel alignment.
With proper care you should expect to get anywhere from 96,000 km to approximately 120,000 km from a set of tires before your wear bars show through. What are wear bars? They are built-in indicators appear as strips that run across the tread pattern when it has worn down to 1/16th of an inch (1/4 inch for snow tires) indicating that tire life has met it's life expectation.
Driving on tires that have exposed wear bars is not only unsafe but illegal. You will need to replace the tires as soon as possible. Here is an illustration of what a wear indicator looks like and how to read it properly.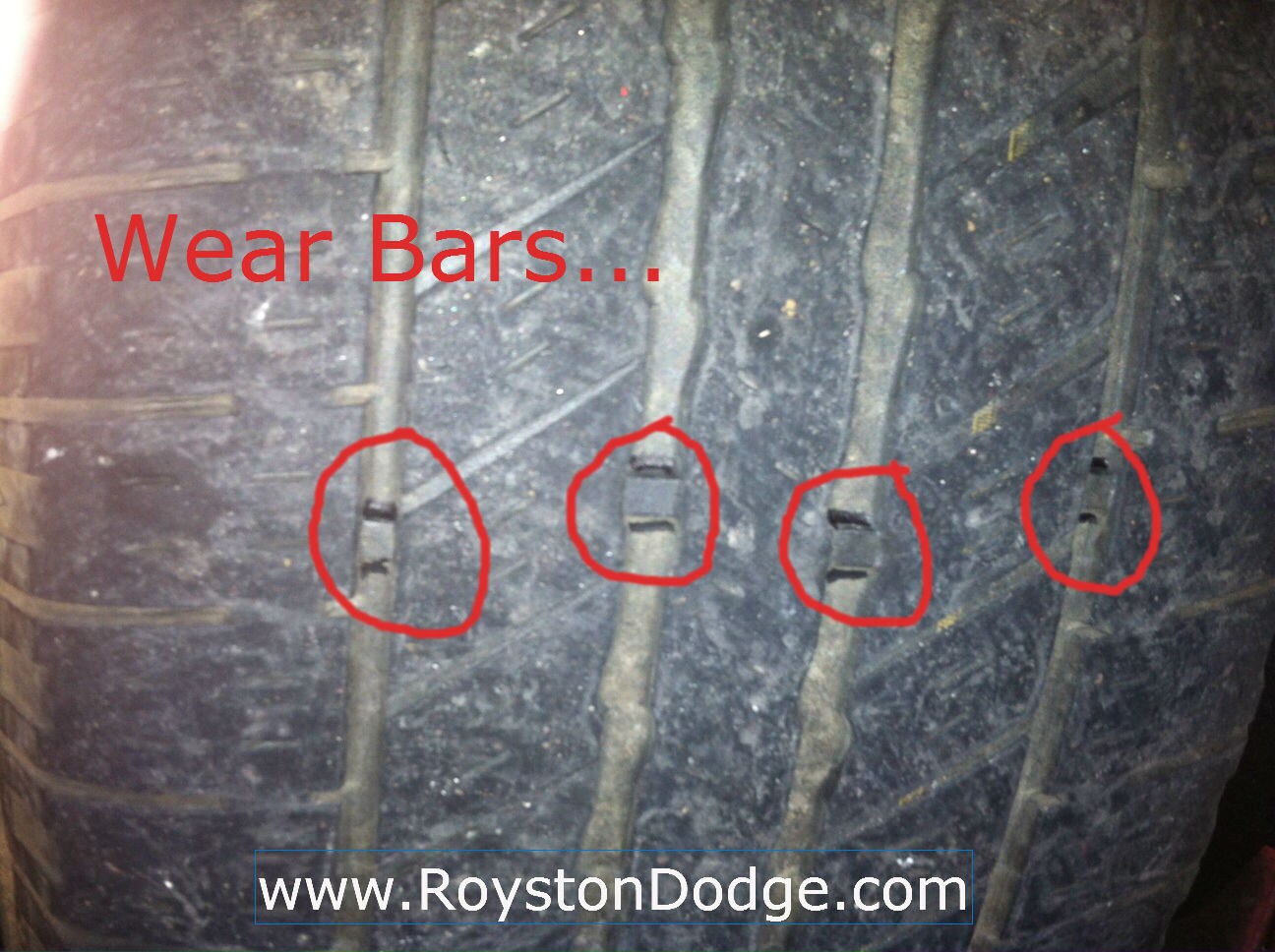 The wear indicators are circled in red

If this article has provide you with useful information please leave some feed back and share it, if you like to thanks for taking the time and reading this article.

RJ PICK UP SERVICE




241A Main Street North




Uxbridge, Ontario, L9P 1C3


Phone

905-852-4238




Email:

rjpickupservice@hotmail.com

TIRECRAFT!!
We're driving towards a cure with every car we service
show your support and go pink!!